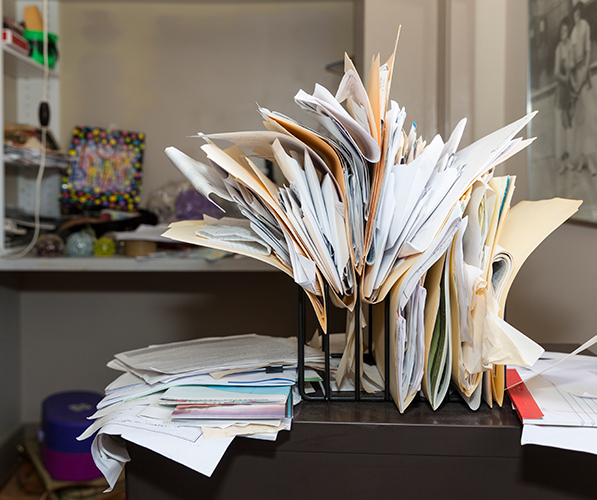 Hello 2021!
With the coming of a new year, people traditionally make resolutions where they promise to do something different in the year. As you think about what you will "promise" to do in 2021, the type of resolution you make plays a big part in how long you will stick with it.
Resolutions can be anything – self-improvement, reading more, spending more time with friends and family, starting a journal. These are just a few examples, but have you thought about organizing your "stuff" as a resolution? And by "stuff" we are referring to your financial assets, household goods, real estate and the documents that validate your ownership and protect your future. Yep, this is your "stuff."
Over the years, you have probably collected a lot of "stuff", right? Have you ever taken an inventory of it all? As you look around your house, do you have piles of papers laying around? Do you know where everything is kept? What each pile contains? What must be kept and for how long? If something happened to you unexpectedly, would someone else know about your "stuff" and its location?
If you answered yes to these questions, congratulations! Even though, and especially if you answered no to any or all of them, taking time to organize is a resolution you might want to consider. Taking the steps to get it all organized can save hours of searching and frustration in the long run.
Knowing what you have is the first step to getting organized. When it comes to getting it all organized, be sure to use a filing system that fits your needs. Does keeping it all in file folders work for you? What about a three-ring binder with tabs? Would it be easier to store things electronically? Once you decide on the method that is doable for you, it's time to dig in, focus and the let the organizing begin.
Keep it going… once your initial "stuff" is organized, be sure to carve out time to regularly review your files and put any new important documents in their proper place. Whatever you do, don't put it off and let things pile up.
As you embark on your journey to get organized, you may find Covenant Trust's "Your Stuff" booklet a valuable resource to help you prepare an inventory of financial assets, real estate household goods and important documents. It's available on the Tools & Resources page at covenanttrust.com. Happy organizing!
The information provided is general in nature, educational and is not intended as either tax or legal advice. Covenant Trust is not responsible for losses sustained by anyone relying on this information as personal counsel. Consult your personal tax and/or legal advisor for specific information. Covenant Trust is incorporated in the State of Illinois and is supervised by the Illinois Department of Financial and Professional Regulation. Covenant Trust accounts are not federally insured by any government agency. Clients may lose principal as a result of investment losses.