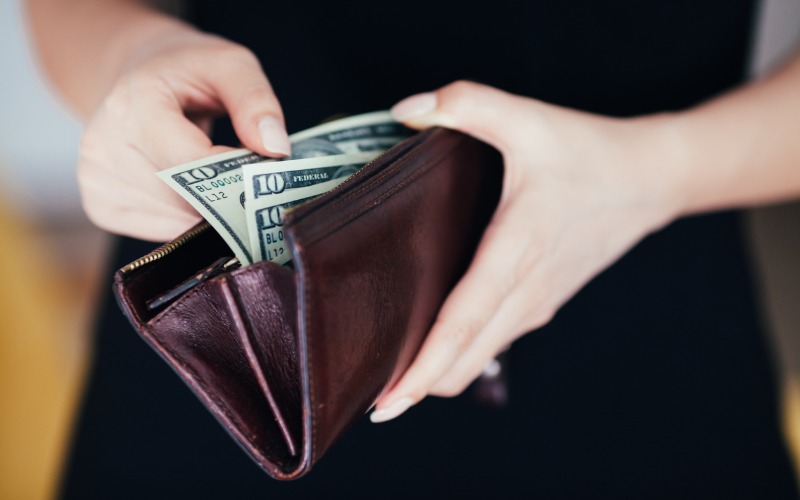 Inflation has been a hot subject of debate over the last several months, and for good reason – the June and July headline 12-month year-over-year (YoY) Consumer Price Index came in at 5.4 percent, the highest recorded figures since December 1990.1 The Consumer Price Index (CPI) measures the average change in prices over time that consumers pay for goods and services such as shelter, transportation, food, and medical care. While the CPI increase is worrying and could bring about rising interest rates to curb inflation, these higher inflation figures may indeed be "transitory"2 as Federal Reserve Chairman, Jerome Powell, continues to suggest.
Why Current Inflation Figures May Be Transitory
1. Supply Chain: As supply chains normalize following the height of the pandemic, price increases due to supply chain issues should stabilize. For example, the segment of the June CPI with the greatest increase included used-car sales, which were up over 40 percent plus YoY.3 Much of this pressure in the auto market is due to pandemic-related supply chain disruptions. Auto semiconductor chips have been in short supply for new cars, and the shortage has decreased car production and inventory on car lots, pushing used-car prices upwards.4 We do not expect used cars to continue as an appreciating asset and, likewise, expect much of the recent spike in inflation to subside as supply chains normalize.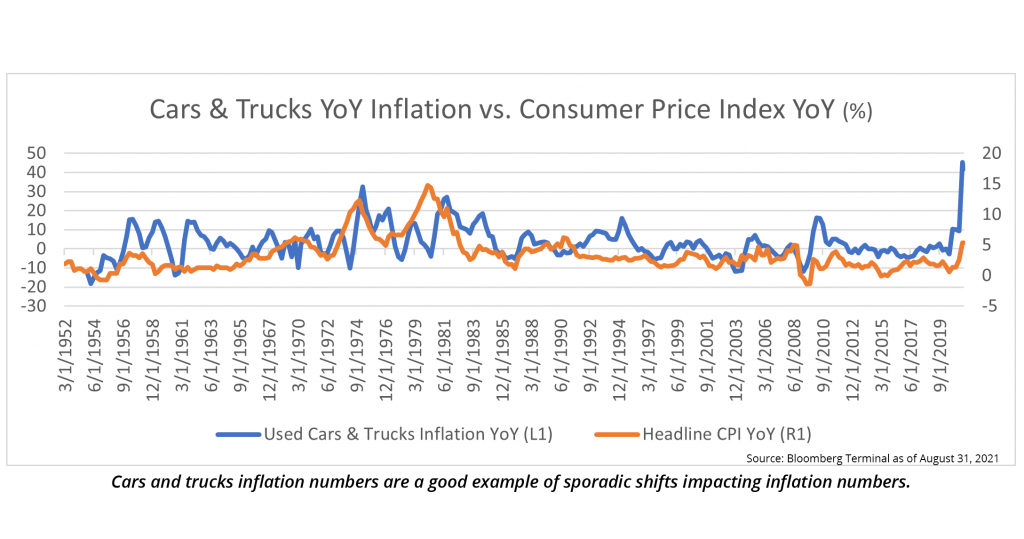 2. Raw Materials Run-Up: Some raw materials, including lumber, witnessed a spike of inflation at the start of 2021 due to high demand and tight supply. Prices doubled from around $800/thousand board feet in January 2021 to $1,686/thousand board feet on May 7, 2021. Now lumber prices sit just shy of $500/thousand board feet.5 These large swings in lumber prices are representative of many commodities that spiked in the first half of the year only to decline sharply as fast as they accelerated. These sharp rises and declines in commodity prices would not be expected if inflation were to continue to accelerate at 5 percent plus moving forward.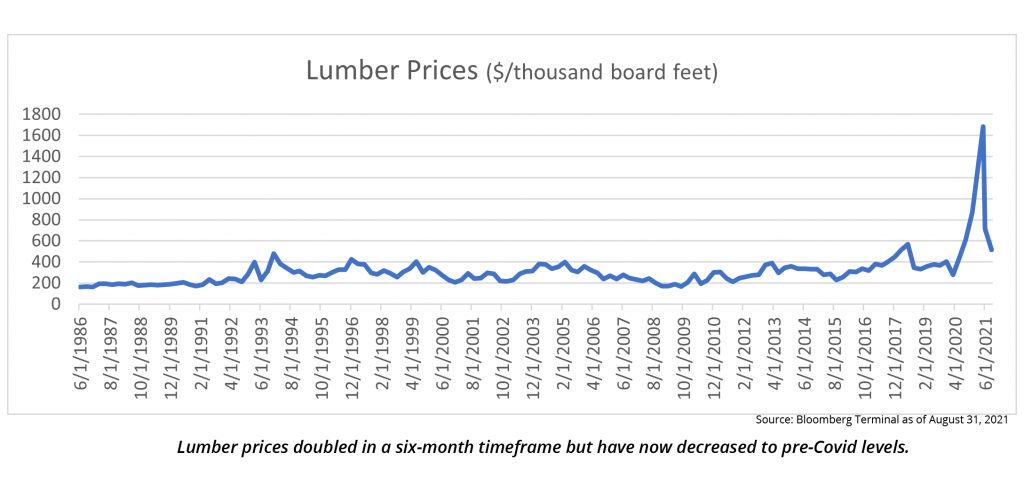 3. Deflationary Forces: In the long term, several economic deflationary forces may keep inflation from continuing to accelerate:
Slowing population growth
Labor automation
Stagnant wages
Other Considerations
We would be remiss to ignore short-term inflationary pressures and suggest these moves in prices won't eventually have an impact on the consumer and remain somewhat sticky. For example, corporations rarely reduce prices once they are passed on to consumers, even when conditions normalize. Also, the housing market, which has seen one of the greatest price accelerations over the last year, may have a stickier impact on buyers.  An uptick in the housing sector typically drives an increase in rent levels 18-24 months later.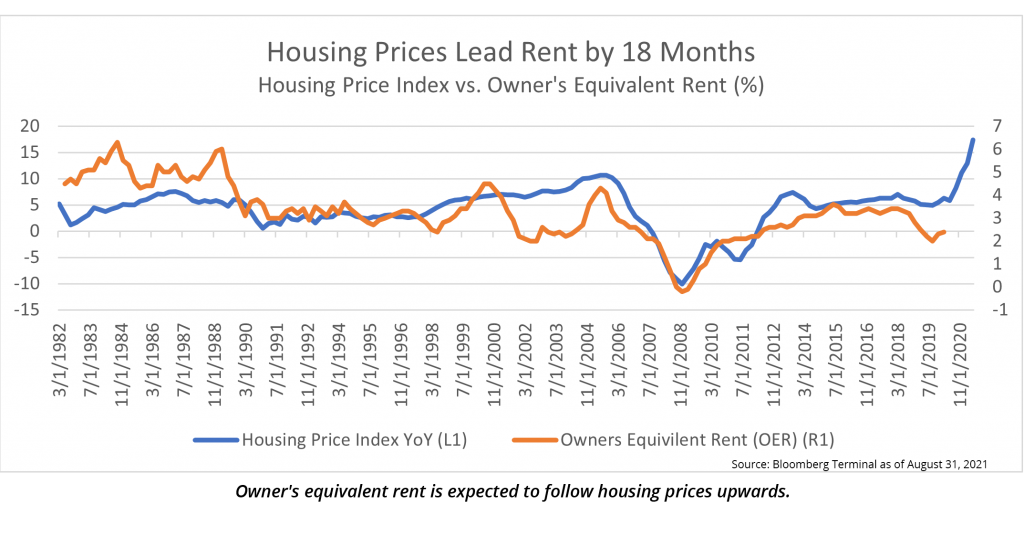 As inflation has trended below the Federal Reserve's 2 percent target for the last ten years, investors may view this spike in inflation as a makeup period for such low inflation over the last decade. However, some also suggest that the enormous expansion of the Fed's balance sheet and spending by the government will continue to accelerate inflation in the economy. If we learned anything over the last decade, it is that expansive monetary policy does not necessarily translate to higher inflation and government spending doesn't necessarily translate to a weak dollar. Inflation has negative consequences, but the Fed does have the ability to raise interest rates to help curb its progression. This is a wait-and-see environment where prudent investors will maintain a long-term view.
Will we pay more to eat at a restaurant two years from now? How much will computers and cars cost? Only time will tell. For now, we agree with the Federal Reserve Chairman that inflation is likely to be "transitory" and returning to trend levels for the foreseeable future.
Covenant is a full-service trust company providing investment solutions tailored to fit each client's values and goals. For more information about Covenant Trust's outlook on the markets, or to speak with a Covenant Trust representative about developing a strategy that's right for you, contact us at (800) 483-2177.
Sources
Bureau of Labor Statistics – U.S. Department of Labor; Consumer Price Index July 2021; August 11, 2021
The Federal Reserve, FOMC Statement; July 28, 2021
Bureau of Labor Statistics – U.S. Department of Labor; Consumer Price Index June & July 2021; August 11, 2021 & July 13, 2021
"Automotive Chip-Shortage Cost Estimate Surges to $110 billion"; Bloomberg: Keith Naughton; May 13, 2021.
Bloomberg Terminal as of 08/31/2021
Disclaimer
The information provided is general in nature, educational and is not intended as either tax or legal advice. Consult your personal tax and/or legal advisor for specific information. Covenant Trust is incorporated in the State of Illinois and is supervised by the Illinois Department of Financial and Professional Regulation. Covenant Trust accounts are not federally insured by any government agency. Clients may lose principal as a result of investment losses.