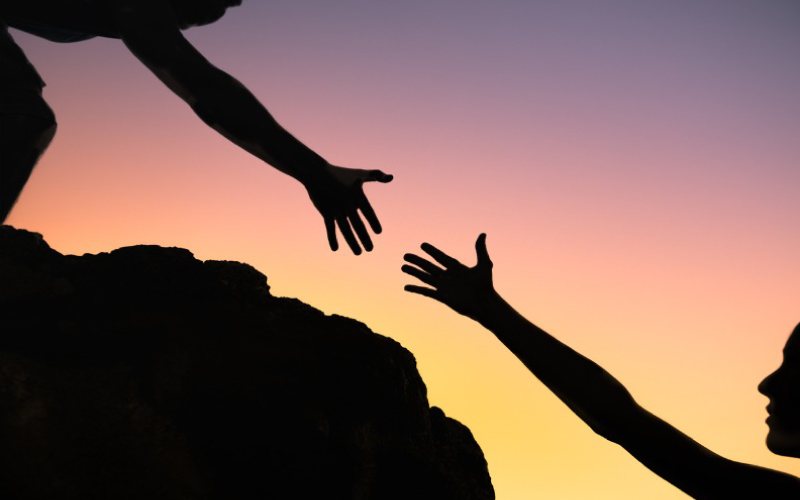 As the pandemic and its challenges persist and the geopolitical environment becomes more uncertain, we at Covenant Trust are refocusing on living into our guiding values. Our first value is committing to our client's purpose. As stated in our guiding values, "Your purpose is the starting point. We encourage you and your family or organization to dream big, and we work together to live out your purpose." We find it empowering to think and talk about purpose.
We invite our clients and friends to join us as we explore the concept of purpose and our Covenant Trust tagline, "Investing with Purpose." What does purpose mean? How can individuals live purposefully, even in the most challenging times, and how can purpose improve our lives?
Purpose as a Roadmap
There is no template for living life, planning for the future or making key financial decisions. We are all unique individuals with unique skills, challenges and aspirations. At Covenant Trust, we believe that no matter who you are, you can benefit from a better map to guide your daily actions – a pathway defined by your purpose and values, where purpose is your values turned into action. When we allow our purpose and values to guide us, we can experience greater happiness, improved wellbeing and achievement of our big-picture goals in life.
What is your purpose and how can defining it help you live your best life?
Uncovering Your Purpose
We begin with inspiration from the Japanese term "Ikigai," which means roughly "happiness in living," and a quote from renowned author and theologian Frederick Buechner.
Ikigai includes four components that define an individual's life purpose; they are: What I Love, What I'm Good At, What the World Needs, and What I Get fulfillment From.[i] Similarly, Frederick Buechner wrote, "The place God calls you to is the place where your deep gladness and the world's deep hunger meet."
You can use these inspirations as you think about putting your purpose into words. To help, we invite you to give the "uncovering your purpose exercise" (see sidebar) a try.
Writing about purpose is a mix of describing your past and current experiences and also thinking about what's in your heart and mind that has yet to be fully incorporated into your life.
As Frederick Buechner wrote, "The magic of words is that they have power to do more than convey meaning; not only do they have the power to make things clear, they make things happen." This is our aim, to dig deep for clarity and help to ignite positive action for our clients, in investments and in life.
Creating a Purpose Statement
As you work through the "uncovering your purpose exercise," and focus on repeated words and important ideas, you can begin to condense them into a few sentences. These sentences don't encompass everything about you, but they will help to clarify the theme of what you want to achieve. After some editing and refining, these sentences become purpose statements.
At Covenant Trust, we are clear that our purpose is to commit to your purpose and work with you to achieve your goals.
You might write a purpose statement like this…
"Creating art and music with others to foster beauty, community and joy wherever I am."
"Exploring the world and connecting with people through writing to foster understanding, inclusion, compassion and joy."
A Promising Beginning
We encourage you to give the purpose exercise a try yourself and see if you can create a statement that describes your skills, longings and opportunities and is 100% true and inspiring. This is a powerful first step toward following a purpose-driven path to living, planning and investing.
In addition, talk with your Covenant Trust Financial Service Representative about what's most important to you. The more you talk about what you love, what you're good at, what the world needs and what you get fulfillment from, the more purpose-focused you'll become.
Coming Up Next
In this six-part series, we'll continue exploring purpose as a roadmap for happiness in living. We'll write about:
Investing with purpose – what investments create a path to achieving your goals?
Retirement planning with purpose – how do you save for what's most important?
Giving with purpose – how do other families give purposefully?
Spending with purpose – are your spending habits supportive of your purpose?
Incorporating purpose in our daily lives – summing it all up.
For more information about Covenant Trust or to speak with a Covenant Trust representative about a purpose-driven investment strategy, contact us at 800-483-2177.
Disclaimer
The information provided is general in nature, educational and is not intended as either tax or legal advice. Consult your personal tax and/or legal advisor for specific information. Covenant Trust is incorporated in the State of Illinois and is supervised by the Illinois Department of Financial and Professional Regulation. Covenant Trust accounts are not federally insured by any government agency. Clients may lose principal as a result of investment losses.
Uncovering Your Purpose Exercise
Take a piece of paper and write four lists:
List 1: WHAT I LOVE
Write everything that you're passionate about and that is most important to you personally. What brings you joy? Is it: family, friends, travel, writing, good health, birds, swimming, church, teaching, laughing, building stuff?
List 2: WHAT I'M GOOD AT
What learned and innate skills do you possess? Think about your many talents, even those you might not use very often such as: building stuff, swimming, caring for others, telling jokes, being creative, math, making people smile, noticing every detail.
List 3: WHAT THE WORLD NEEDS
What needs do you see – in your home, neighborhood, city, country or on earth? How might these needs match up with your passions and skills? Examples are: teaching, protecting earth and animals, making art, relationship building, joy and laughter.
List 4: WHAT I CAN GET FULFILLMENT FROM
You might derive a sense of purpose from your employment, volunteer work or pastimes. Examples include: leading, teaching, learning, strengthening, consensus building, creating, problem solving, connecting people.
Your purpose can be found at the intersection of your four lists. Look for repeated words and ideas that feel most important to you and combine them into a sentence that describes what you're trying to achieve. See examples below under "Creating a Purpose Statement."