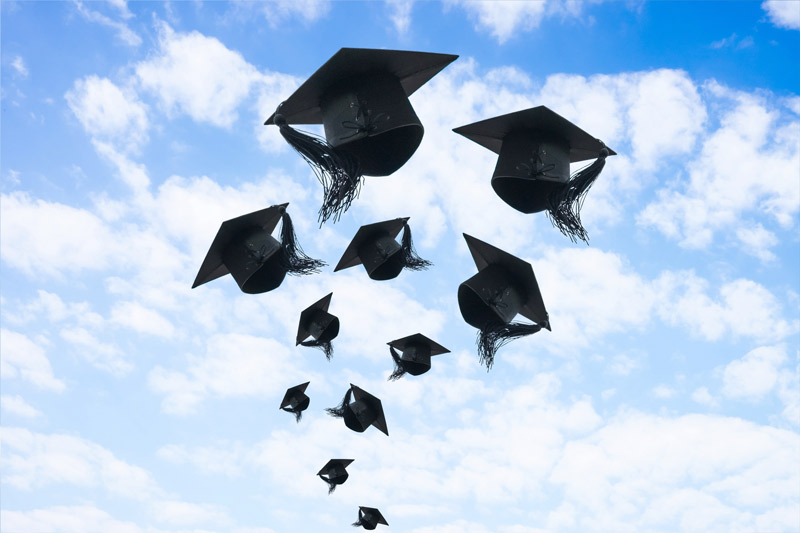 Congratulations to you on this exciting time in your life. As you look ahead and start managing your own money, here are three tips to get your finances in order:
Aim to save at least 10% of your salary
Yes, 10% sounds like a lot. You do not have to start saving at 10%, but you eventually will want to get there. Start where you can, whether that is 1% or 5%, but just start. To make saving easy, opt to have a portion of your pay automatically deposited to your bank or credit union savings account. Take part in your employer's retirement plan if there is one. If your employer has a match, even better! That helps you get to your goal quicker. With every year and every raise, increase the amount you put away. By making saving, and eventually investing, a priority, you will have enough in the bank to face an emergency without fear of financial hardship. And as the nest egg grows, you will open new possibilities for yourself, like homeownership, grad school, interesting travel or whatever dream you have for your future. Your future possibilities start with saving and investing today.
Live beneath your means
Living beneath your means is different from living at your means or above your means. It means not just making ends meet but having extra money at the end of the month, not more month at the end of the money. It probably means eating in more than eating out and driving an economical car rather than your dream car. Living smaller today creates room in your life for the opportunities that will come.
There is always enough to give some away
No matter what you make or have in the bank, there is always enough to give some away. Generosity is based on your mindset, not your bank balance. Find a charity or a cause that really speaks to your heart. Then give to it with joy, whether you send a check or give your time. Your gift makes a difference to the charity, but you will find it makes more of a difference to you.
The information provided is general in nature, educational and is not intended as either tax or legal advice. Consult your personal tax and/or legal advisor for specific information. Covenant Trust is incorporated in the State of Illinois and is supervised by the Illinois Department of Financial and Professional Regulation. Covenant Trust accounts are not federally insured by any government agency. Clients may lose principal as a result of investment losses.